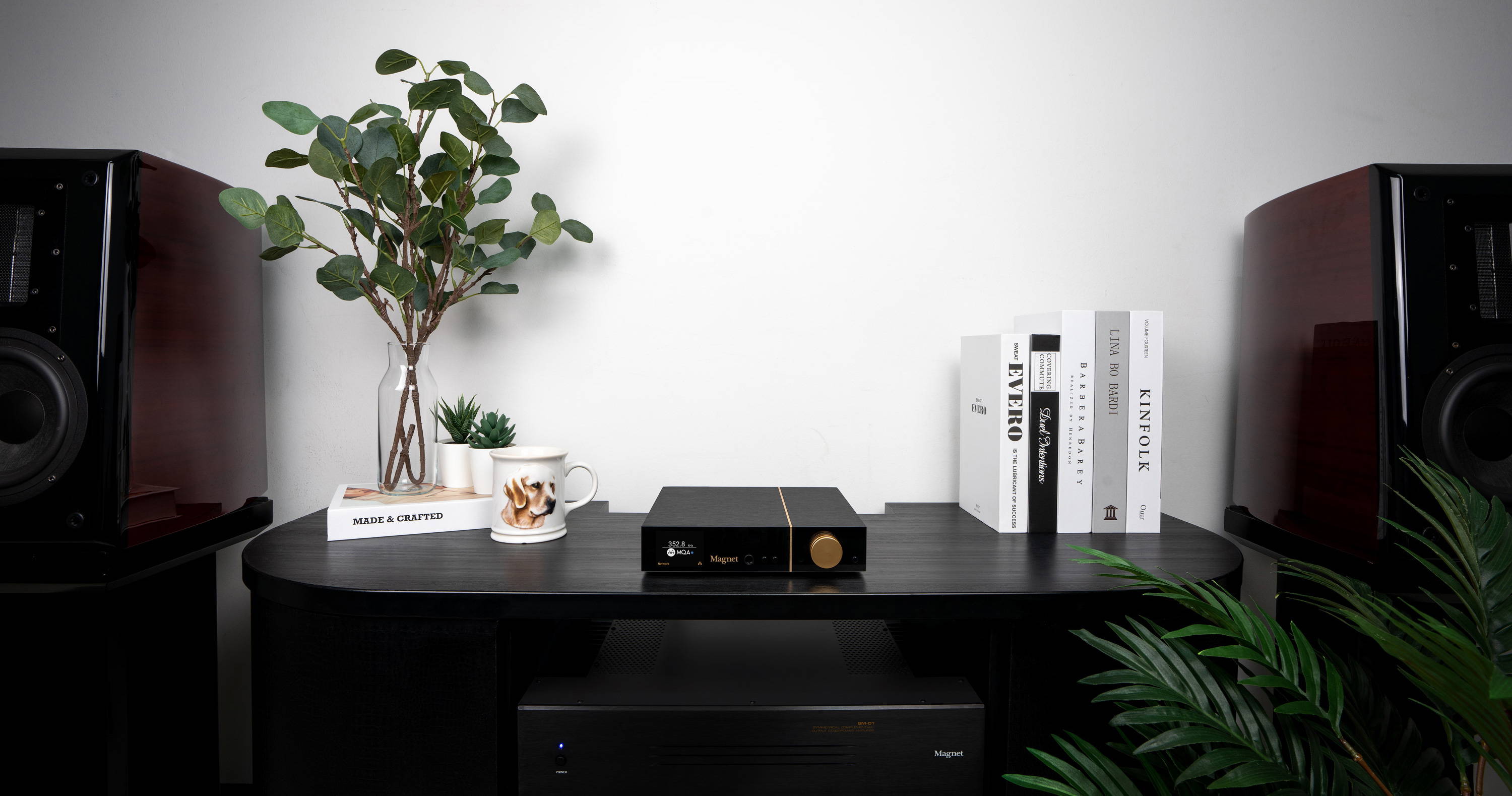 A Multi-source High-end
Digital Music Player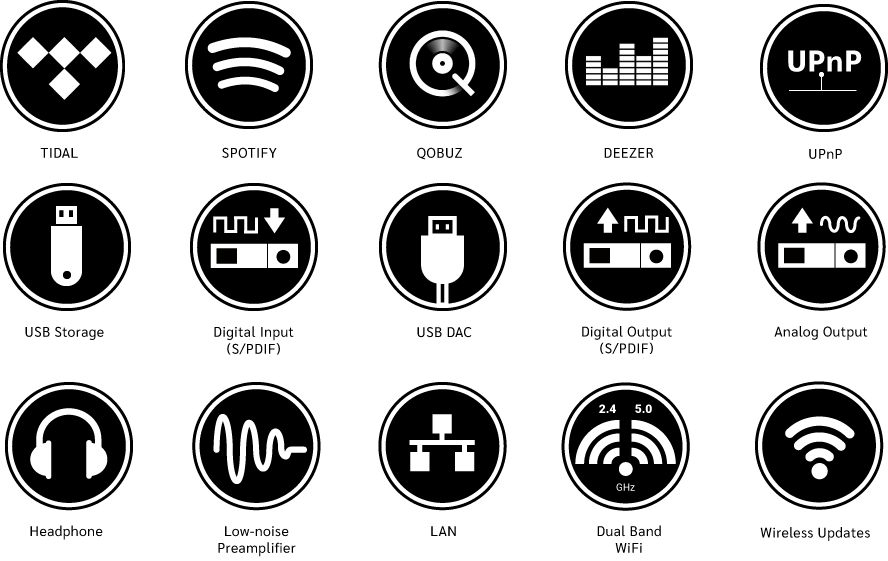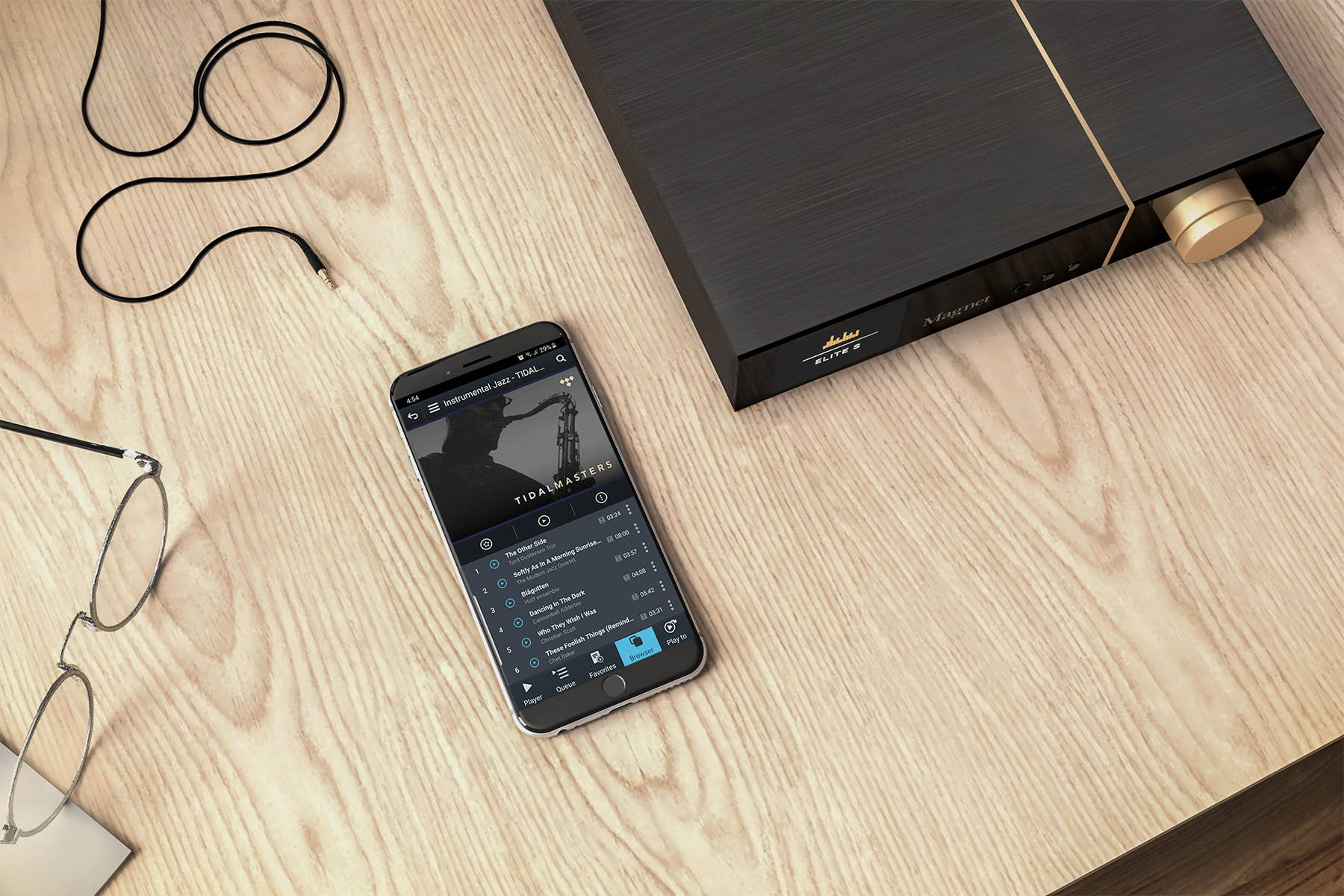 For more than 2-year of research and development, Magnet has finally launched the first streaming digital-to-analog converter (DAC). ELITE S allows you to stream music from popular music streaming services; Spotify, Deezer, Qobuz and Tidal. Alternatively, you can also browse music from your local disk or Cloud systems.
For a seamless experience, you can take control via the application on mobile phone which is available to download on either iOS or Android. Digital data transmission of ELITE S is a bit-perfect system resulting in the most impeccable sound from the original audio source.
The core of analog sound quality derives from a high-quality DAC Chip; AK4493, which is input with bit-perfect digital data. With a femtosecond range of clock jitter noise and a high driven current analog filter topology, ELITE S achieves only 0.00036% of THD+N and 122 dB of SNR.
Therefore, the signals will be transmitted in high fidelity with silent background. Having said that, you can detect every detail hidden in your favourite music as you have never heard it before.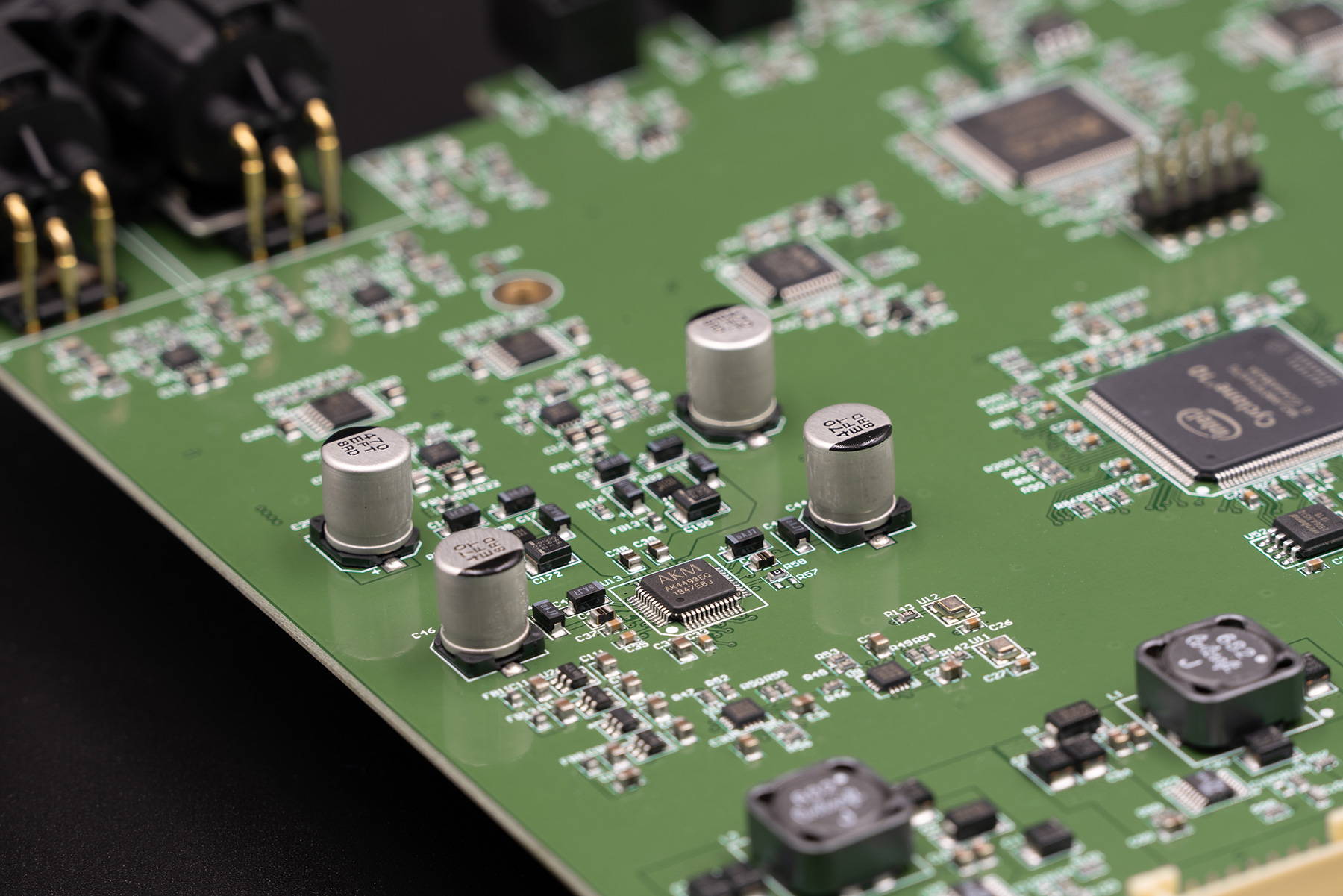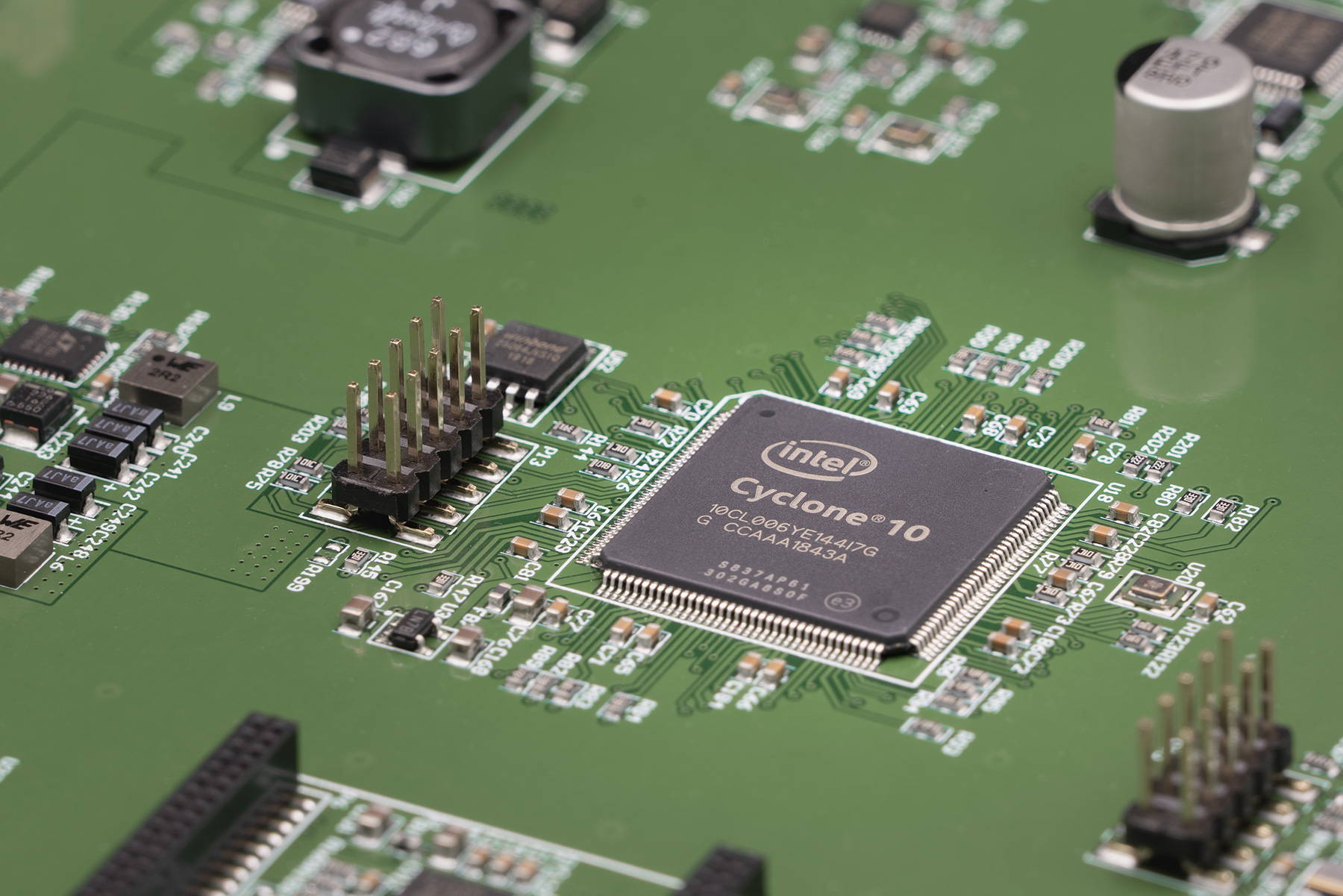 The core processor of ELITE S is based on FPGA technology, from Intel, which consists of thousands of programmable logic elements. A hardware-level parallel processing creates high validity of timing in a signal chain without any bottleneck. It differs from a general system using a microprocessor.
Aside from the streaming feature, ELITE S can be a standalone DAC for USB and SPDIF support from other audio player devices such as computer, TV, and CD Transport. Acting as a digital transport transmitting signal from a primary streaming source to other external DAC can result in better sound quality.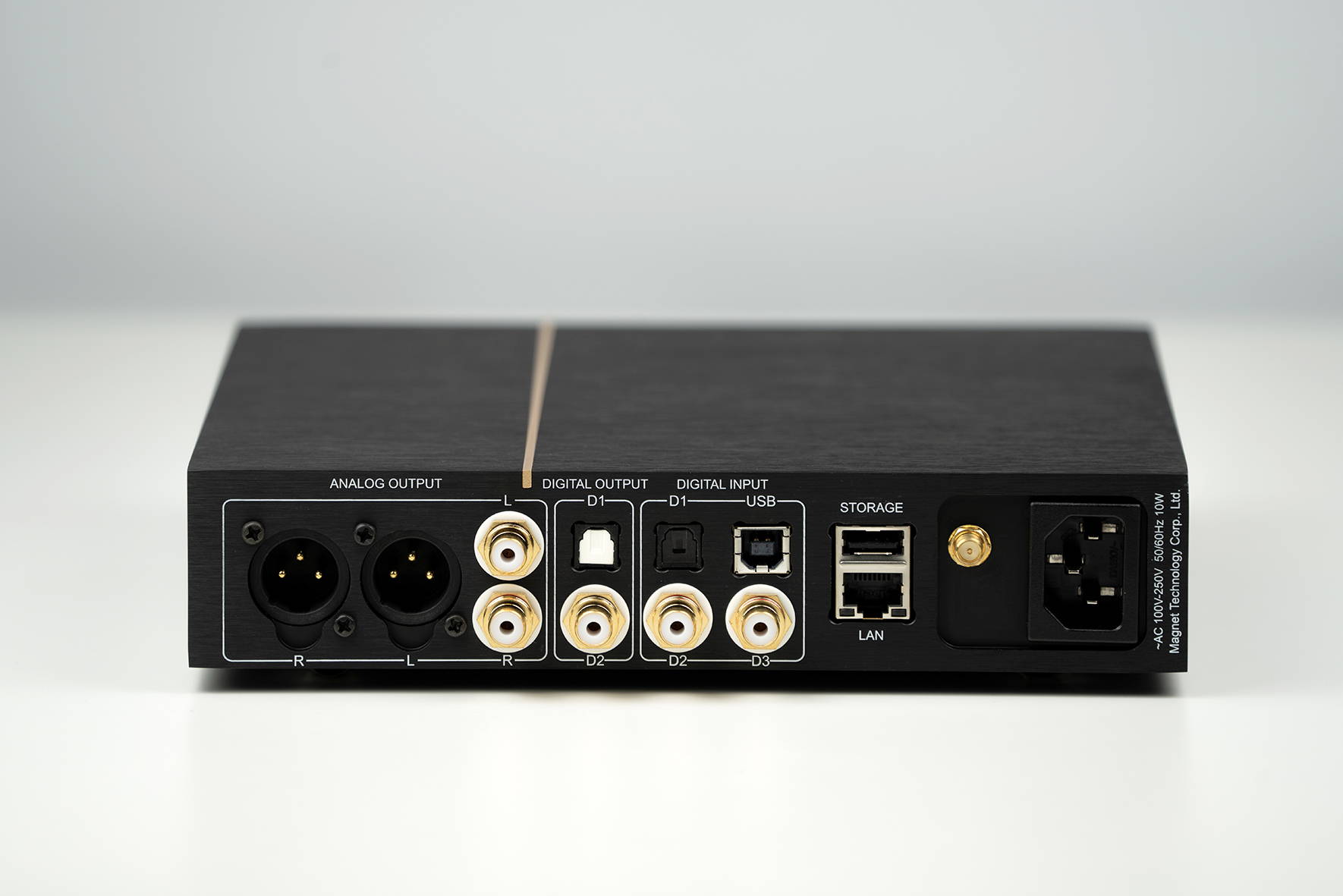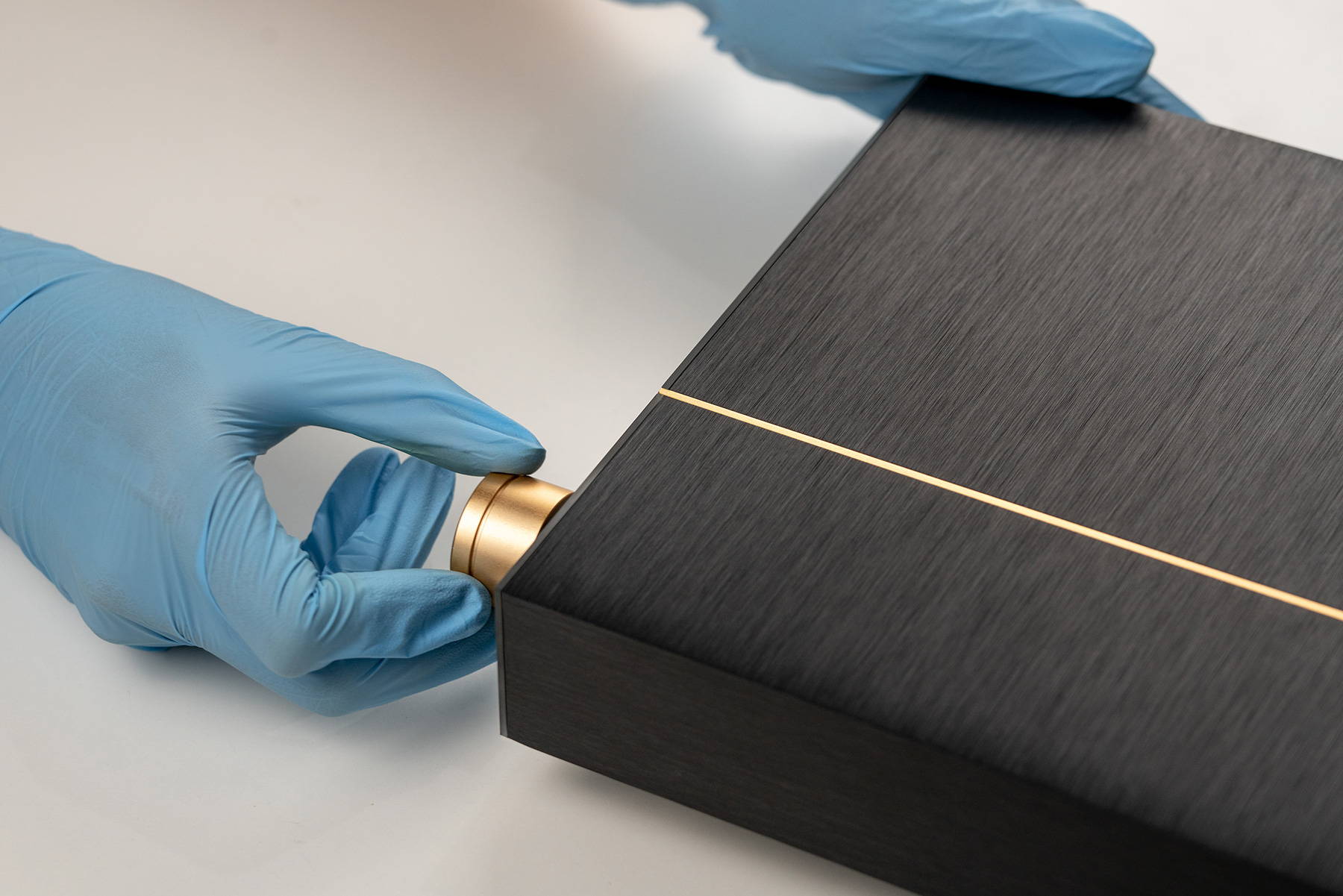 Thanks to our volume control technology, the ultra-low noise solid-state attenuator, ELITE S can be paired with a power amplifier directly without a need for pre-amplifier. This technology is deliberately created to solve all limitation of traditional variable resistor. As a result, every musical detail is preserved due to its super low noise floor even if listening at low playback volumes.
Being only 22 cm in width, ELITE S is suitable for using on desktop, by pairing with your favorite headphone. With our volume control technology, you can adjust volume at any appropriate listening level to satisfy numerous types of headphone, with different sensitivities and impedances, while always having a noiseless background.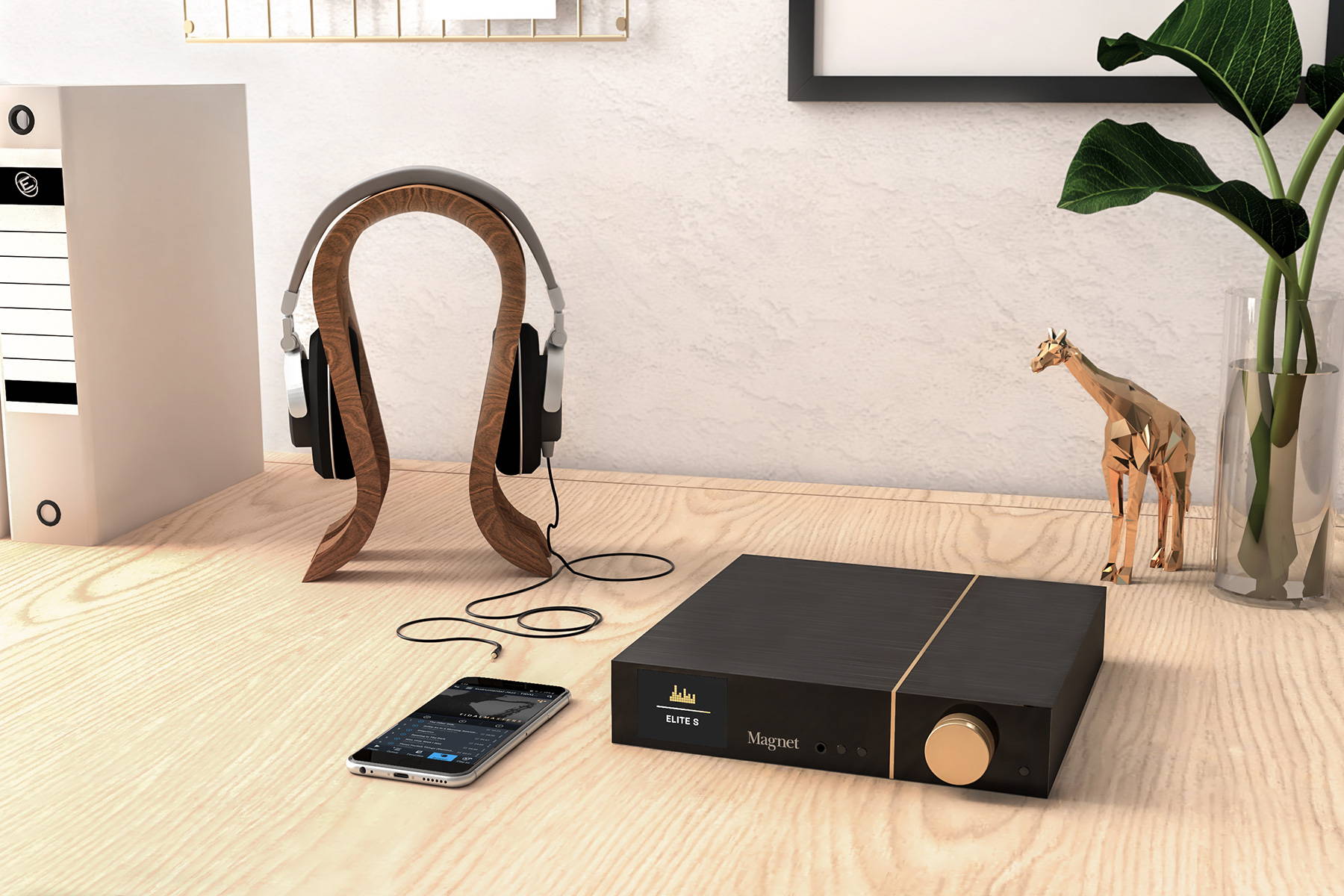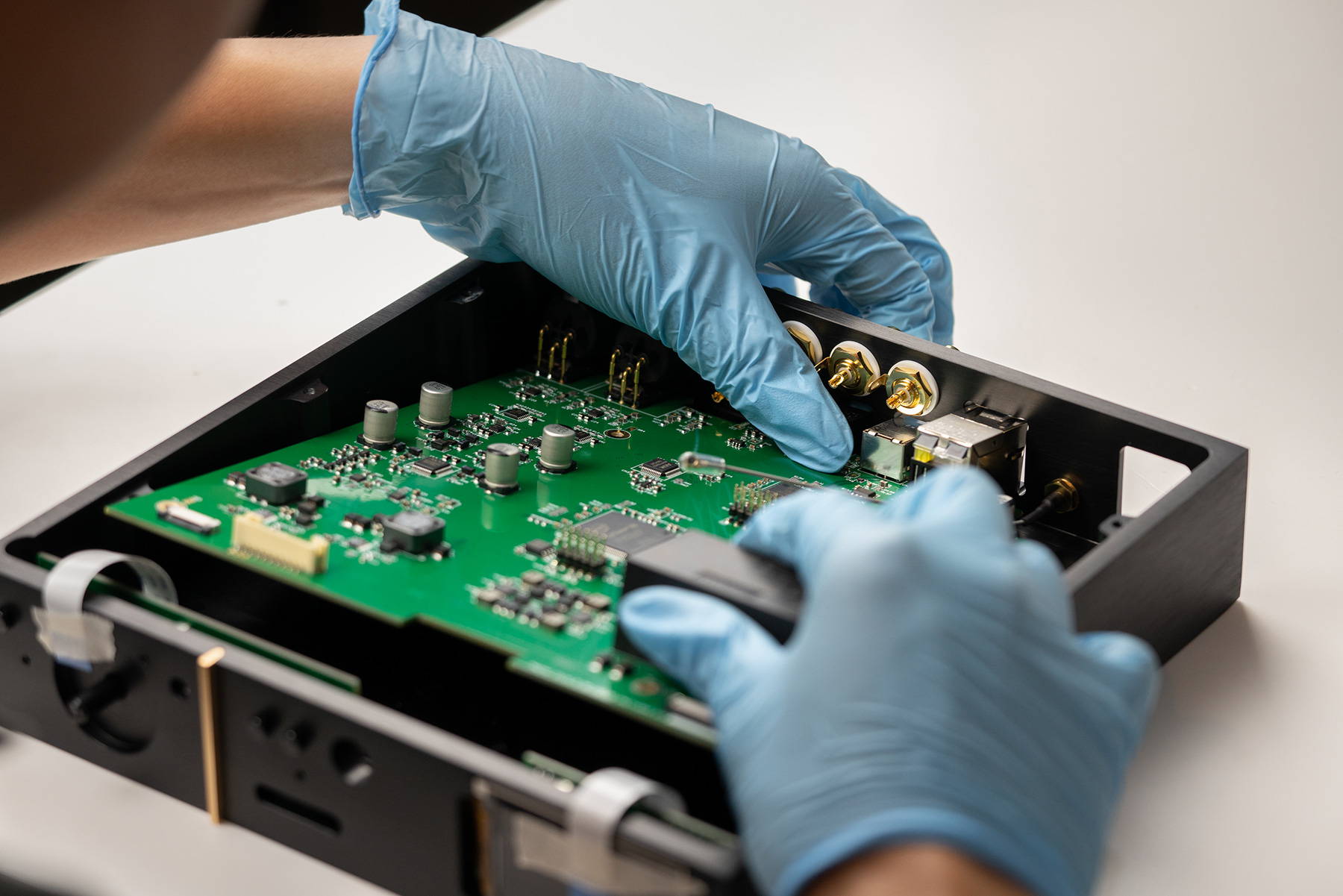 Our custom-made 6 layers PCB is essentially designed for protecting all sensitive signal traces from unwanted interferences. Significant signal traces are routed on the internal layers shielding by the large top and bottom ground planes for untouched signal integrity.
Working hand in hand with the R&D team, we finally obtain the in-house designed PCB specifically for ELITE S to unleash the potential of all high-quality components on our circuit board to the max.
ELITE S offers a full-color 262K LCD display which allows you to adjust the brightness to suit in any circumstance. Display interface also provides real-time operational feedback; input channel, volume, sampling rate, playback status, and configuration settings.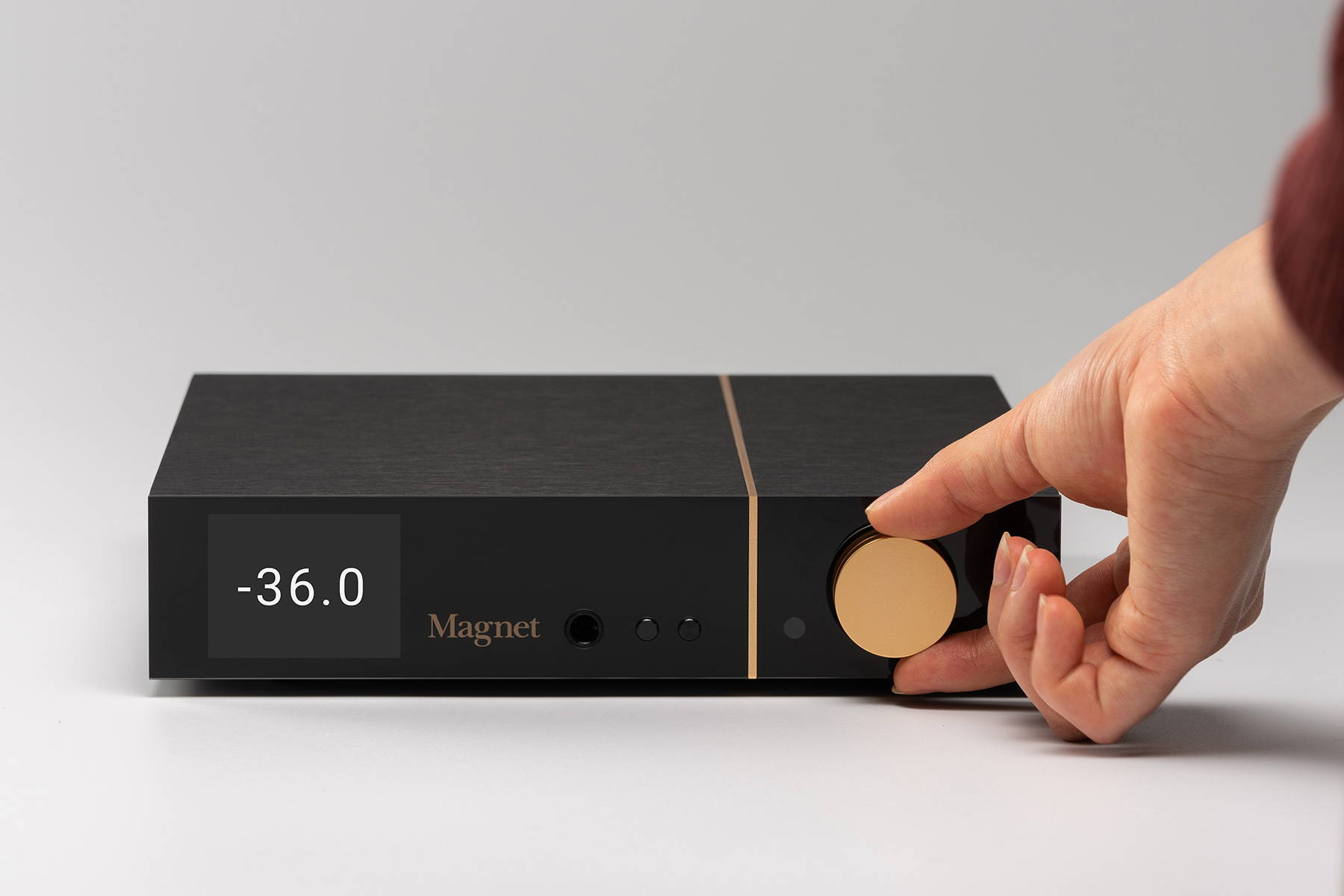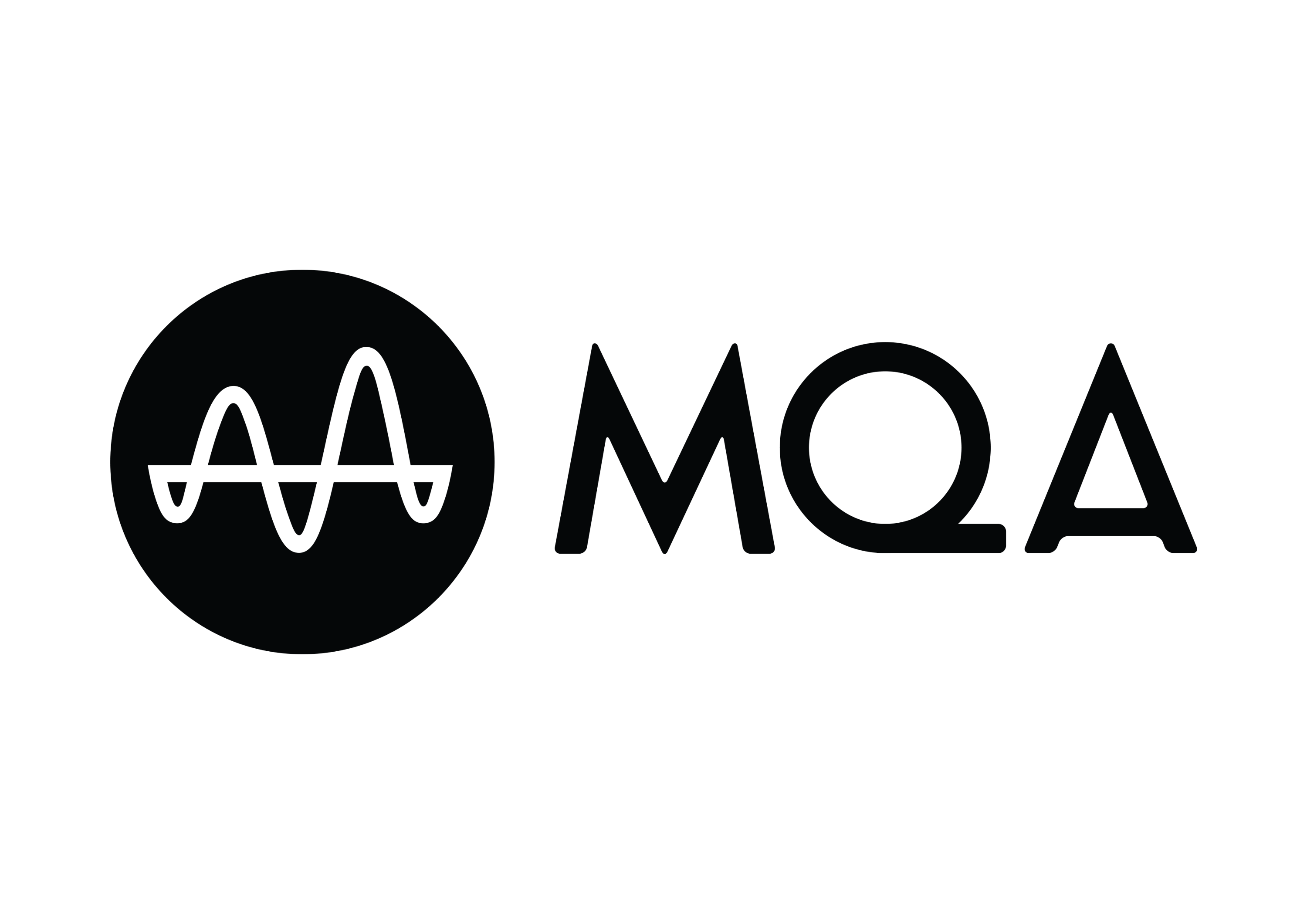 MQA is an award-winning British technology that delivers the sound of the original master recording. The master MQA file is fully authenticated and is small enough to stream or download. Magnet ELITE S includes MQA technology, which enables you to play back MQA audio files and streams, delivering the sound of the original master recording. Visit mqa.co.uk for more information.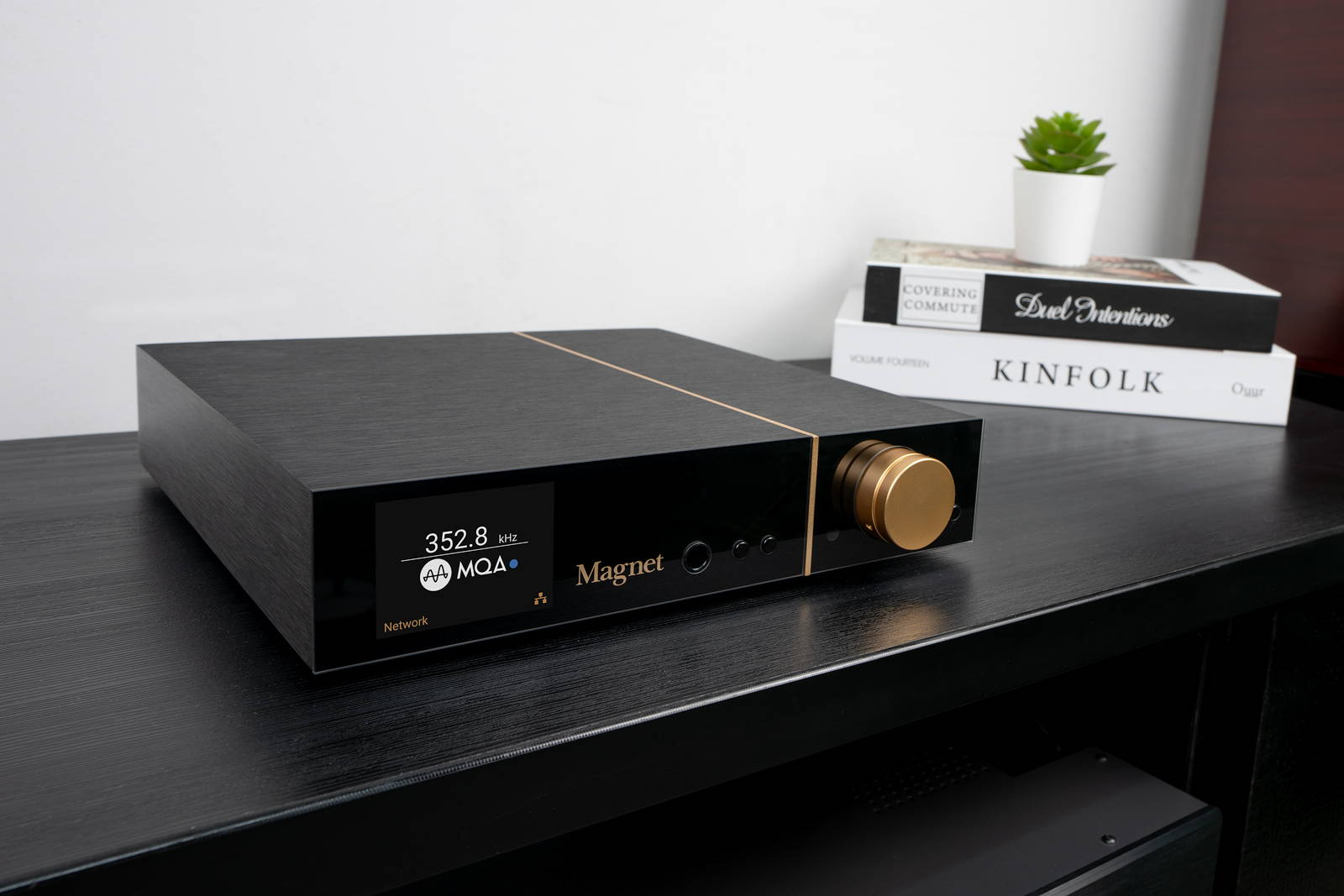 On the front panel, we use Gorilla glass which is similar in quality to the glass used in most flagship smartphones today. Material is designed for scratch resistance, high durability and sleek appearance. This durable glass also offers anti-fingerprint coating to help reduce a smudge on screen and leave a clean smooth surface.

More easily than ever as ELITE S supports two types of connection; LAN and WiFi. Connecting through LAN has high stability of data transmission due to its lower interference nature, while connecting via WiFi provides more convenient for any user who prefers a wireless mode.
Although channel congestion may decrease WiFi quality, we do offer Dual-band WiFi, which supports both 2.4 GHz and 5 GHz band to enhance data transfer efficiency.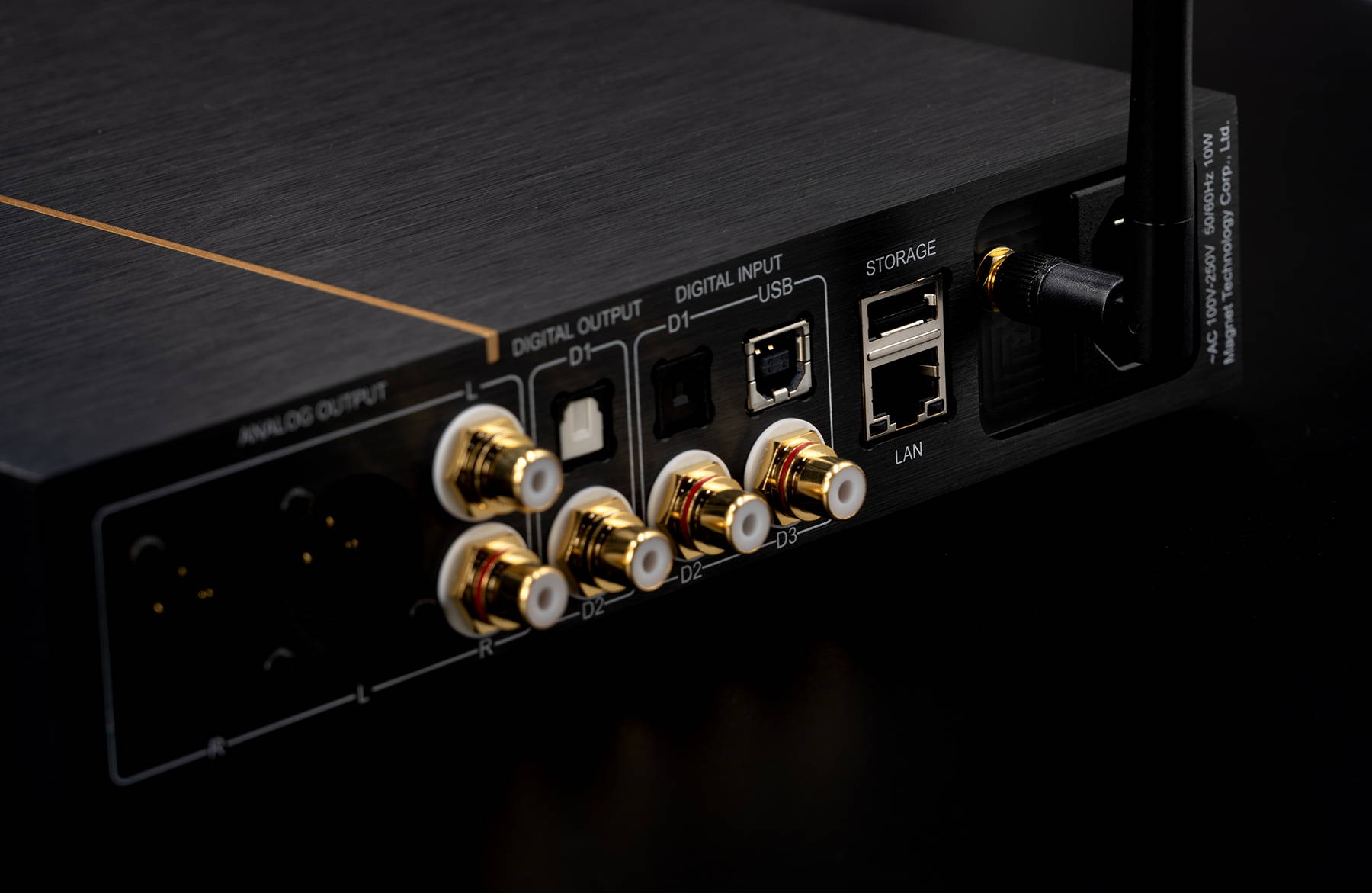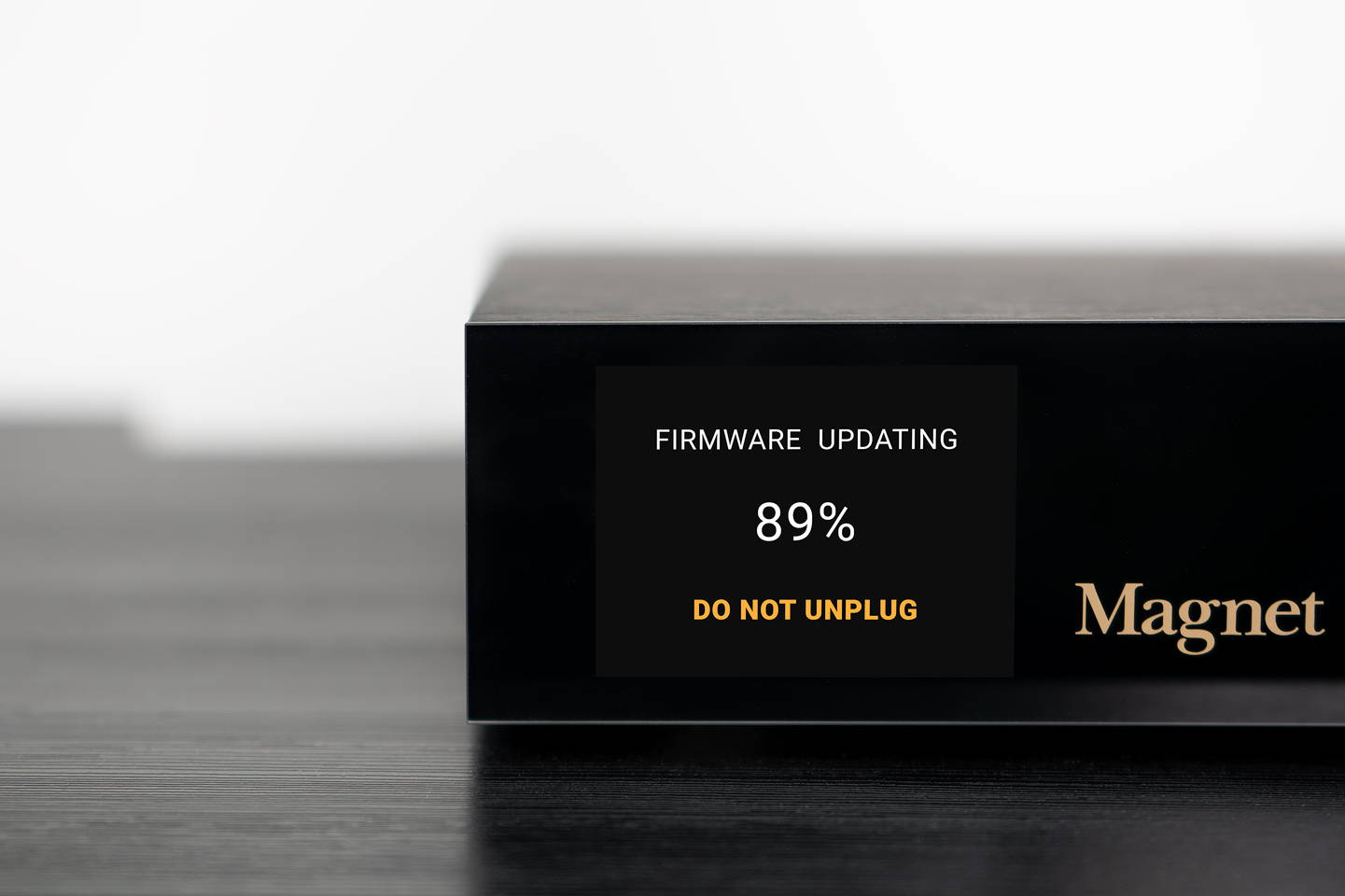 ELITE S offers a firmware update through a network system. Simply pressing an update menu on ELITE S, your system will be automatically updated to the latest firmware version. Being able to update the system remotely allows you to access new features instantly without wasting your time to carry the device back to the service center.

From a single billet of aluminium into a substantial structure, CNC Solid Chassis is machined by removing excess aluminium. After a high precision process of 4-hour machining time, we obtain a significantly lighter block that is customized for our in-house designed audio circuit board. For a unique appearance, a golden L-shaped bar is embedded to be in harmony with a semi-matte black anodized chassis.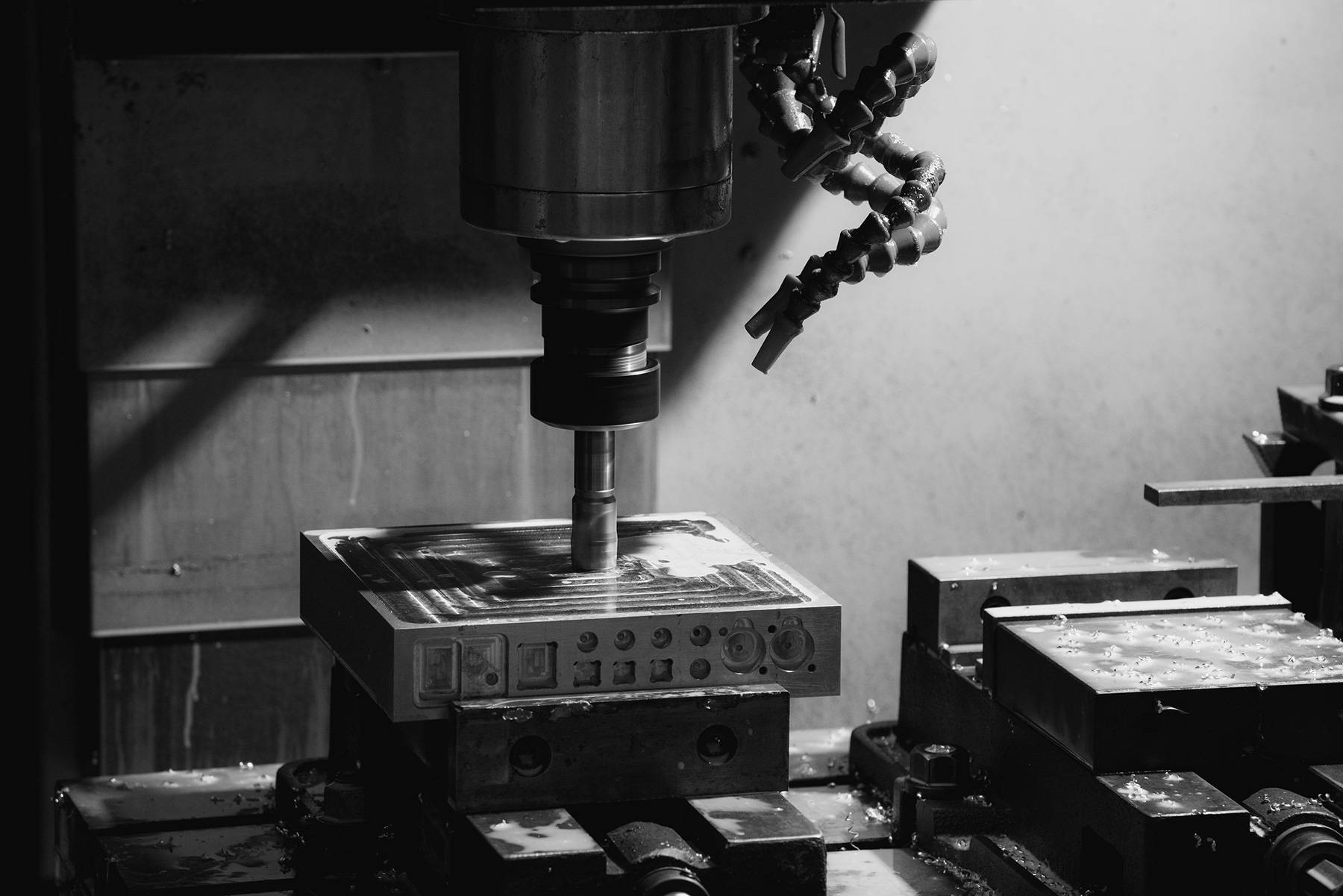 122dB at 0dBFS, A-weighted
Ultra-low noise solid-state attenuator (390Ohm, SNR>100dB down to -30dBFS, +/- 0.02dB Channel Tracking)
6.35mm TRS Jack, 3Vrms at 0dBFS, Output Impedance < 0.2Ohm
1 x S/PDIF Coaxial RCA (up to 24bit/192kHz, DSD64 via DoP)
1 x S/PDIF Optical TOSLink (up to 24bit/96kHz)

TIDAL, Spotify Connect, Deezer, Qobuz and DLAN/UPnP (up to 24bit/192kHz, DSD64)
1 x USB type B (up to 24bit/384kHz, DSD256)
2 x S/PDIF Coaxial RCA (up to 24bit/192kHz, DSD64 via DoP)

1 x S/PDIF Optical TOSLink (up to 24bit/96kHz)
1 x USB type A (up to 24bit/192kHz, DSD64)

Wi-Fi (2.4/5GHz, 802.11b/g/n/ac) with dual band external antenna
262K colors 2.2" TFT Display, three buttons and rotary volume control
Typical use: 12W Sleep: <0.5W
216 x 218 x 44mm (244mm in depth including connectors and volume knob)